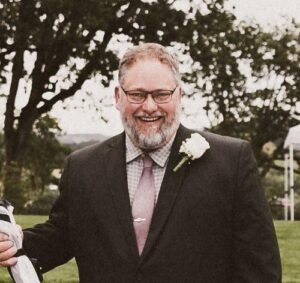 Anthony "Tony" Baker – City Councilor and Monroe resident for over 25 years passed away on Sunday, January 8, 2023. Tony served our community as Monroe City Councilor (1997-2000, 2020-2022). He was re-elected as City Councilor in the November 2022 general election to serve four more years.
Tony was active in the community and was quick to offer his help to anyone that needed it. Tony was born in Eugene, Oregon to Felix "Bob" and Audrey Baker. He graduated from Thurston High School in 1977 followed by one year of schooling at Eugene Bible College with some classes at LCC. In 1979, Tony began work at the City of Cottage Grove as a Dispatcher, and then move on to work for the City of Eugene as a Community Service Officer. On March 15, 1981 Tony married his wife, Delaine. Shortly before their wedding Tony had been hired as a Police Officer for the Eugene Police Department (EPD). He worked a total of 30 years for EPD. His various assignments included Patrol Officer, Undercover Officer, Fatal Accident Investigator, SWAT, Narcotics K-9 Handler, and Tracking K-9 Handler. He served as a Sergeant from 2004 to 2006. He was promoted to the rank of Lieutenant in January 2007. He served in that position until his retirement in June 2009. While working at EPD he continued his schooling, graduating in August 2007, with a Bachelor of Arts in Management from Northwest Christian University.
Shortly after retirement he began work again, as a Security Officer, at the Federal Courthouse in Eugene. He worked for another 10 years before retiring again in 2019. In his off-hours from work and family activities, Tony was busy with remodeling homes, building an RV Park, and working on his 1905 Victorian home in Monroe. Also, he had an entrepreneurial spirit that was always thinking. A car wash? A bowling alley? He always had new ideas. Tony's latest endeavor was a business called Victorian Pantry that involved freeze drying food.
The past year Tony had been honored by becoming the Executive Pastor at Encounter Church in Elmira. He was humbled by this position and also very excited about all the opportunities he would have to influence other people's lives. He taught several different classes. Tony was also very active in the recently started building program at the church. He saw these changes as a way to make more room for people to attend church. Tony is survived by his wife, one son and his spouse, three daughters and a spouse, one granddaughter, his mother, and two brothers and their spouses. Also, he is survived by a large extended family and his much loved house cats. There will be a celebration of Tony's life on Saturday, January 28, 2023 at 11:00 a.m. at Christ's Center Churchlocated in Junction City. The family requests, in lieu of flowers, any donations made in Tony's memory go to the Encounter Church in Elmira, Oregon with attention made to the Executive Pastor Tony Baker Building Fund: (www.aplos.com/aws/give/EncounterOpenBibleChurch/general?mibextid=Zxz2cZ)