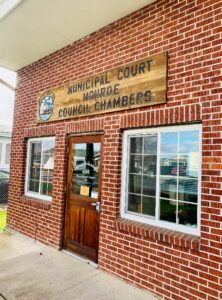 City of Monroe
Municipal Court
658 Commercial St.
Monroe, Oregon 97456
(541) 847-5175
If needed, the Municipal Court will be in contact with you using the information provided to us on your citation. It is your job to reach out to the Court if you cannot make your appearance date, or if your contact information is wrong. Note: If you notice that your contact information on your citation is incorrect, please contact the court as soon as possible.
Here are two options to take care of your citation: 
Option #1 – Call the Municipal Court at (541) 847-5175, during City Hall Office Hours, and pay your citation in full over the phone and avoid coming to Court.
Option #2 – cityhall∂ci.monroe.or.usEmail the Municipal Court to reset a Court Date or request a monthly payment arrangement. **Note: Court is only held once every other month.**
If you FAIL TO APPEAR or neglect to communicate with Court Clerk before Court: 
Set procedure: You will be CONVICTED AT MAXIMUM fine amount(s) and your license will be SUSPENDED For Failing to Appear per Judge's Orders.
Contact and Court Information: