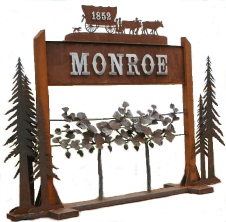 Monroe Oregon is located in South-East Benton County and nestled in the foothills of the Coast Range. Strategically positioned in the mid-Willamette Valley, the City of Monroe is between Corvallis and Oregon State University to the north and Eugene with the University of Oregon to the south. This unique location offers very diverse opportunities including hiking and mountain biking, fishing on the Alsea River, Division I sports at both Oregon State University and the University of Oregon,  or wine tasting at local wineries. Monroe's beautiful natural surroundings offers an attractive site for business and tourist development.
What's New
---
The City of Monroe is saying goodbye to their current RARE participant RJ Theofield, who has done tremendous work for the city over the last 11 months. We have been so grateful for his time here. As of September 10th, we have welcomed in a new RARE member, Taylor Evans who will be taking on the work RJ has done. 
The City of Monroe has been awarded a Transportation Growth Management (TGM) Grant to fund the development of a Riverside District Master Plan. The Riverside District Master Plan will allow Monroe to adequately plan and realize the community-generated vision to reorient the community towards the river and take advantage of its aesthetic, recreational, economic, and environmental opportunities. The space where the downtown, Long Tom River, and City Park intersect has been dubbed Monroe's 'Riverside District' (See Map for context). The TGM Grant will allow Monroe to plan for synergistic land uses and transportation connections in this area to create a walk-able, vibrant, and sustainable district – enhancing resident's quality of life and our economy.
On July 23rd, the City Council approved a $2.00 WATER rate increase that will take affect September 1, 2018 for all utility customers. The rate increase is due to unexpected costs associated with an increase in insurance rates, the requirement to produce a Water Management and Conservation Plan in order to become compliant with our water permit rights, and added water testing requirements. Altogether, these will cost the City an additional $25,000 during this fiscal year.