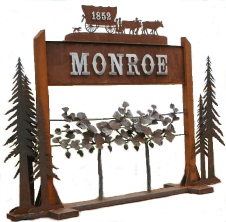 Monroe Oregon is located in South-East Benton County and nestled in the foothills of the Coast Range. Strategically positioned in the mid-Willamette Valley, the City of Monroe is between Corvallis and Oregon State University to the north and Eugene with the University of Oregon to the south. This unique location offers very diverse opportunities including hiking and mountain biking, fishing on the Alsea River, Division I sports at both Oregon State University and the University of Oregon,  or wine tasting at local wineries. Monroe's beautiful natural surroundings offers an attractive site for business and tourist development.
What's New
---
The City of Monroe and the Monroe Festival Committee (MFC) invite interested businesses to have a table at the second annual Monroe Festival on Saturday, April 30, 2022, in beautiful Monroe, Oregon.
The Monroe Festival is the premier event for visitors seeking to see, taste, and experience the bounty of the Southern Willamette Valley. Visitors from Eugene, Springfield, Corvallis, Junction City and all surrounding areas come together for a day of sipping wines and brews, perusing unique and vintage goods, as well as riding our trolley – celebrating Monroe's heritage, environment, and culture.
FESTIVAL DETAILS
Date: Saturday, April 30th 2022
Time: 10 a.m. to 6:00 p.m. (Note: Wineries and breweries will be open 12 p.m. to 6 p.m.)
Location: 6th Street (Between Kelly Street & Commercial Street + Main Street between Highway 99W and Monroe Community Center (formerly Legion Hall) in Monroe, OR 97456
What to Bring: Your love of local wines, brews, food, fun, and live music!
The deadline for completed applications to be postmarked or emailed by
FRIDAY, FEBRUARY 25th 2022