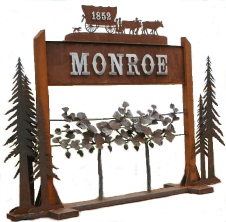 Monroe Oregon is located in South-East Benton County and nestled in the foothills of the Coast Range. Strategically positioned in the mid-Willamette Valley, the City of Monroe is between Corvallis and Oregon State University to the north and Eugene with the University of Oregon to the south. This unique location offers very diverse opportunities including hiking and mountain biking, fishing on the Alsea River, Division I sports at both Oregon State University and the University of Oregon,  or wine tasting at local wineries. Monroe's beautiful natural surroundings offers an attractive site for business and tourist development.
What's New
---

ODOT is starting up major construction to update and install ADA curb ramps the week of October 3rd. Construction work will be on weekdays from 7 a.m. to 5 p.m.
Expect:
-Construction noise.
-Shoulder and lane closures.
-Work zone controlled by flaggers, as needed.
-Pedestrians, including those with disabilities, will have access through or around work zones.
-Lane closure and flagging when working at the Commercial Street and Kelly Street intersections with OR 99.
The curb ramps are being built in batches, or stages, so you might see some periods of inactivity and some of the work is weather dependent so the schedule may change – visit TripCheck.com for the most up to date information on road conditions and traffic.
If you have concerns or would like to request ODOT look at accessibility issues at specific locations, please contact:
Brennan Burbank | 971-701-3342
brennan.burbank∂odot.oregon.gov

The City of Monroe wants to remind its citizens that keeping grass and weeds in check on their property or the right-of-way adjacent to their property not only keeps the City a pleasant and safe place to live, but is also the law. Read more about Ordinance 16-01 for details.