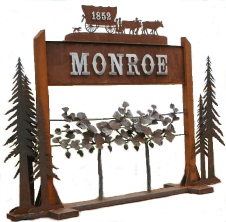 Monroe Oregon is located in South-East Benton County and nestled in the foothills of the Coast Range. Strategically positioned in the mid-Willamette Valley, the City of Monroe is between Corvallis and Oregon State University to the north and Eugene with the University of Oregon to the south. This unique location offers very diverse opportunities including hiking and mountain biking, fishing on the Alsea River, Division I sports at both Oregon State University and the University of Oregon,  or wine tasting at local wineries. Monroe's beautiful natural surroundings offers an attractive site for business and tourist development.
What's New
---
The Top 10 Reasons Startups Fail & How to Avoid Them
5:30 PM – 7:00 PM Thursday May 3rd at the Monroe Community Library
A lot of startups fail, but yours doesn't have to. At this FREE seminar, you'll learn about the most common and avoidable entrepreneurial mistakes. 
Register for the seminar on Facebook here or Meetup here.
For information regarding the City's partnership with Oregon RAIN and all upcoming free entrepreneurial events click here!