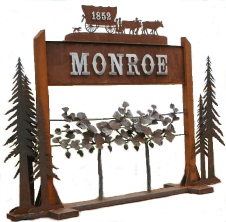 Monroe Oregon is located in South-East Benton County and nestled in the foothills of the Coast Range. Strategically positioned in the mid-Willamette Valley, the City of Monroe is between Corvallis and Oregon State University to the north and Eugene with the University of Oregon to the south. This unique location offers very diverse opportunities including hiking and mountain biking, fishing on the Alsea River, Division I sports at both Oregon State University and the University of Oregon,  or wine tasting at local wineries. Monroe's beautiful natural surroundings offers an attractive site for business and tourist development.
What's New
---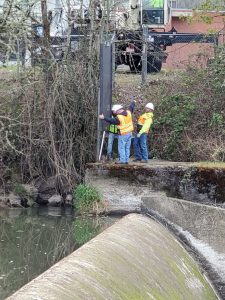 City staff discovered the sluice gate located adjacent to the Mill Dam, had failed during the last high-water event. Water pouring through the now open sluiceway lowered the water level behind Monroe's mill dam. Fast action by our local, regional/state, and federal partners including the City of Monroe's Public Works team, the City of Harrisburg's Public Works Director Chuck Scholz and his staff, USGS, and the U.S. Army Corps of Engineers, worked together to replace the broken gate and restore the water level. See our press release for more information and pictures.
The City of Monroe is recruiting for citizens to serve on the Budget Committee to help shape the City's finances for the next fiscal year. If you are interested, please fill out the application below or pick up an application at City Hall.