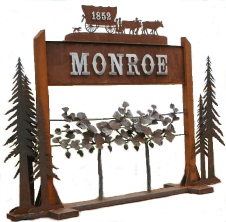 Monroe Oregon is located in South-East Benton County and nestled in the foothills of the Coast Range. Strategically positioned in the mid-Willamette Valley, the City of Monroe is between Corvallis and Oregon State University to the north and Eugene with the University of Oregon to the south. This unique location offers very diverse opportunities including hiking and mountain biking, fishing on the Alsea River, Division I sports at both Oregon State University and the University of Oregon,  or wine tasting at local wineries. Monroe's beautiful natural surroundings offers an attractive site for business and tourist development.
What's New
---
The City of Monroe is accepting letters of interest from any citizen seeking the mayor's consideration for appointment.
At this time, the Mayor would like to appoint a new member at the next City Council Meeting scheduled for Monday, January 25, 2021, at 6 PM.
The Planning Commission is made up of seven members some of who are residents of the City and some who reside outside of the City. Typically, there is one regular meeting a month on the first Monday of every month at 6:00 PM.
The City of Monroe will be accepting letters of interest until Wednesday, January 22, 2021.
Any questions or inquiries may be directed to Monroe City Hall at (541) 847-5175.
Due to COVID-19 Occupancy Restrictions, City Hall is closed to the public. You may leave a message for City Staff at 541-847-5175. For Public Works Emergencies, please call 541-954-6640.