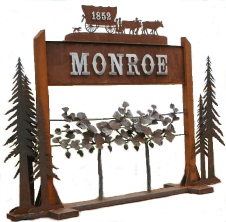 Monroe Oregon is located in South-East Benton County and nestled in the foothills of the Coast Range. Strategically positioned in the mid-Willamette Valley, the City of Monroe is between Corvallis and Oregon State University to the north and Eugene with the University of Oregon to the south. This unique location offers very diverse opportunities including hiking and mountain biking, fishing on the Alsea River, Division I sports at both Oregon State University and the University of Oregon,  or wine tasting at local wineries. Monroe's beautiful natural surroundings offers an attractive site for business and tourist development.
What's New
---
On July 23rd, the City Council approved a $2.00 WATER rate increase that will take affect September 1, 2018 for all utility customers. This increase is due to additional unexpected costs such as an increase in insurance costs, the requirement to produce a Water Management and Conservation Plan in order to become compliant with our water permit rights, as well as extra water testing requirements. These increases will cost the City an additional $25,000 during this fiscal year. 
For all information regarding the WATER rate increase, please click here.
The City of Monroe, Oregon, seeks one or more well-qualified developers to implement its vision for the Gas Station site, as further described in this Request For Proposals (RFP). The City desires to sell the Gas Station site to assist the City in meeting the goals of stated community interests. To that end, the City Council is seeking prospective developers to make proposals for the purchase and development of the property in accordance with the requirements set forth in the RFP document.
For all information regarding this Request For Proposals, click here.
Benton County Public Works will host a second series of community workshops for the public to review proposed transportation system improvements and projects to be included in the update of the County's Transportation System Plan (TSP). The workshops will be open house style and feature multiple opportunities for community input as well as staff presentations and question and answer sessions
Spanish Language Session*
Cuando: 7:30-9:00 PM│Aug. 29
Dónde: Amigos de Monroe United Methodist Church, 648 Orchard Street, Monroe, OR
*Dial-a-Bus available for seniors and persons with a disability. Please contact Dial-a-Bus at least 24-hours in advance: 541-752-2615
Full details on all the workshops throughout the County can be found here.
On July 25, 2018 the City Council approved a STORMWATER rate increase of $2.00 to all utility customers. This rate increase will help fund future stormwater projects like upgrading the ditches and culverts on 8th Street. 
To view the adopted resolution outlining the changes, click here.