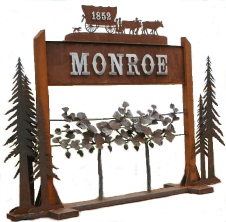 Monroe Oregon is located in South-East Benton County and nestled in the foothills of the Coast Range. Strategically positioned in the mid-Willamette Valley, the City of Monroe is between Corvallis and Oregon State University to the north and Eugene with the University of Oregon to the south. This unique location offers very diverse opportunities including hiking and mountain biking, fishing on the Alsea River, Division I sports at both Oregon State University and the University of Oregon,  or wine tasting at local wineries. Monroe's beautiful natural surroundings offers an attractive site for business and tourist development.
What's New
---
City Hall is now open between 11:00 a.m. and 1:00 p.m. to the public. Due to COVID occupancy restrictions there is a limit of one person at a time in the Office. If you need to meet outside those hours, please call City Staff at 541-847-5175 for an appointment. For Public Works Emergencies, please call 541-954-6640.
The City of Monroe apologizes for the delay sending out this month's Water Bill. We are working hard to mail those bills out to every Monroe resident.
Currently the water bills are expected to be mailed out by the end of next week or Friday, Feb. 19, 2021. With the water bills delayed, there will be a 7-day grace period added to the due date, so Water bills are now due by Friday, Feb. 26, 2021; however, there will be no late fees for payments received by the end of February.
If you have a question about your water bill, please call Monroe City Hall, on Tuesday, Feb. 16, 2021, at 541-847-5175. Thank you for your patience.