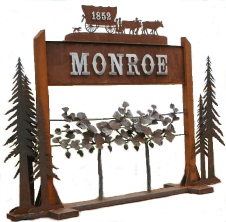 Monroe Oregon is located in South-East Benton County and nestled in the foothills of the Coast Range. Strategically positioned in the mid-Willamette Valley, the City of Monroe is between Corvallis and Oregon State University to the north and Eugene with the University of Oregon to the south. This unique location offers very diverse opportunities including hiking and mountain biking, fishing on the Alsea River, Division I sports at both Oregon State University and the University of Oregon,  or wine tasting at local wineries. Monroe's beautiful natural surroundings offers an attractive site for business and tourist development.
What's New
---
In an effort to reduce the potential risk for exposure to COVID-19 (coronavirus), Monroe Municipal Court appearances that are scheduled for Wednesday May 27th will be rescheduled to June 24th . The Municipal Court will be in contact with you using the information provided to us on your citation. If you notice that your contact information on your citation is incorrect, please contact the court as soon as possible.       
Here are some options that you can take advantage of to get your citation taken care of sooner.
Option #1 – Call the court and pay your citation in full over the phone.
Option #2 – Email us to request a monthly payment contract.
Email Court Clerk – Tracy Floyd at  tracy.floyd∂ci.monroe.or.us
Phone: 541.847.5175
Thank you for your patience with us during this time.