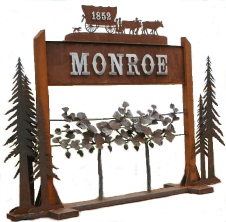 Monroe Oregon is located in South-East Benton County and nestled in the foothills of the Coast Range. Strategically positioned in the mid-Willamette Valley, the City of Monroe is between Corvallis and Oregon State University to the north and Eugene with the University of Oregon to the south. This unique location offers very diverse opportunities including hiking and mountain biking, fishing on the Alsea River, Division I sports at both Oregon State University and the University of Oregon,  or wine tasting at local wineries. Monroe's beautiful natural surroundings offers an attractive site for business and tourist development.
What's New
---
The City of Monroe will be hosting the Strategic Doings Workshop on Saturday, November 17th at 10 am as the next phase of the work to be done in partnership with the RARE AmeriCorps program and Oregon/By Design. It will be held at the conference room at the Monroe Community Library. Everyone is welcome to attend. Click here for details. 
The City of Monroe has been awarded a Transportation Growth Management (TGM) Grant to fund the development of a Riverside District Master Plan. The Riverside District Master Plan will allow Monroe to adequately plan and realize the community-generated vision to reorient the community towards the river and take advantage of its aesthetic, recreational, economic, and environmental opportunities. The space where the downtown, Long Tom River, and City Park intersect has been dubbed Monroe's 'Riverside District' (See Map for context). The TGM Grant will allow Monroe to plan for synergistic land uses and transportation connections in this area to create a walk-able, vibrant, and sustainable district – enhancing resident's quality of life and our economy.