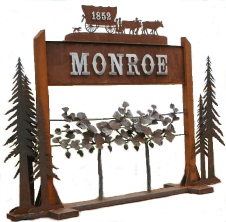 Monroe Oregon is located in South-East Benton County and nestled in the foothills of the Coast Range. Strategically positioned in the mid-Willamette Valley, the City of Monroe is between Corvallis and Oregon State University to the north and Eugene with the University of Oregon to the south. This unique location offers very diverse opportunities including hiking and mountain biking, fishing on the Alsea River, Division I sports at both Oregon State University and the University of Oregon,  or wine tasting at local wineries. Monroe's beautiful natural surroundings offers an attractive site for business and tourist development.
What's New
---
On Saturday, December 4th, at 11AM,  please join Mayor Dan Sheets and owner/proprietor, Misti Crowson, along with members of the Business Association of Monroe, and City of Monroe elected officials for a ribbon cutting ceremony at Christmas Junction (190 S. 5th Street), the newest business to open in Downtown Monroe. See the Press Release.
The Monroe Festival Subcommittee is seeking community input on renaming the current festival. In 2019, the festival was called Vino, Vintage & Victory Festival, then in 2020 the name was changed to Monroe Festival. Today, the 2021 festival subcommittee is looking at options to better market the festival with a new name. Take the Poll!