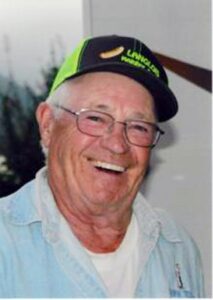 Floyd Billings – Former Acting Mayor, Mayor, City Councilor, and Monroe resident for 55 years passed away on Saturday, January 7, 2023. Floyd served our community as Monroe City Councilor, Mayor, Acting Mayor, various City of Monroe Committees, Monroe Little League Coach, MHS Softball Coach, Monroe Booster Club Member, Monroe Area 4-H Club Member, and Donor for many community organizations and city projects. Floyd was committed to Monroe. He wanted to see Monroe remain a community that retains that close knit, neighborly small-town feel. A town where you can go to your neighbor, for anything, or just share the latest catch of the day. Floyd was born in Newberg, Oregon to Frank and Maxine Billings. He attended Creswell Grade School, Cottage Grove High School, and Hoopa Valley High School in Hoopa, California. Since 1968 Floyd was a Monroe resident and with his wife, Sue, they raised a wonderful family. He retired from Hull-Oakes Lumber Company and most recently worked as a Lumber Salesman at Elk Creek Forest Products.
Floyd began his 16 years of service with the City of Monroe as City Councilor (1982-1986; 1996-1998; 2016-2020), elected three times, Monroe's Mayor (1998-2004), also elected three times, Monroe's Acting Mayor (2020), plus countless hours on various City Committees over the years including Budget, Parks, Personnel & Finance, and Public Works & Safety. His years of service to Monroe did not stop with him being Mayor and City Councilor. In fact, Floyd also spent 24 years of dedicated service to the future of our community, our children.
From 1977-1983 Floyd served as Monroe Little League Coach and, for 4 years, beginning in 1980, he was the Monroe High School Softball Coach. In addition to his coaching credentials, Floyd held a leadership role with the Monroe Little League as President. He spent many hours volunteering his own time, repeatedly over the years, requesting donations in support of our local community organizations including Monroe Booster Club's Auction, Monroe Area 4-H Club's Livestock Auction, and recently Monroe's City Park Restroom and Covered Picnic Area. Floyd is survived by his wife, two daughters and their spouses, two sons and their spouses, 18 grandchildren, and many great grandchildren. Floyd was preceded in death by his son, Floyd Billings Jr. There will be a celebration of Floyd's life on Saturday, February 11, 2023 at 1:00 p.m. at the Monroe High School gym. The family requests, in lieu of flowers, any donations made in Floyd's memory go to the Monroe Rural Fire Protection District and the Monroe Arts Association.