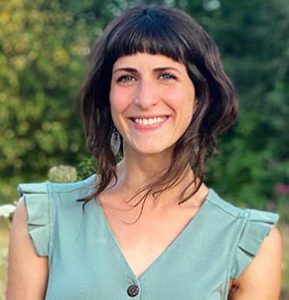 Councilor Lisa Lindner
lisa.lindner∂ci.monroe.or.usEmail
About Councilor Lindner
Lisa grew up just outside of Portland, OR, moved to Corvallis in 2002, and then moved to Monroe in January of 2019. Her first experience working with local government started in high school, when she filed documents for Milwaukie City Hall as a volunteer. Later in college, she would go on to assist with planning two of the Benton Soil and Water Conservation District's annual native plant sale fundraisers, as well as help Springfield's Neighborhood Economic Development Corporation (NEDCO) develop a comprehensive staffing structure, strategic plan, and SWOT analysis.
After graduating from Oregon State University with a degree in Cultural Anthropology, Lisa pursued graduate coursework in Planning, Public Policy, and Management at the University of Oregon – which makes her a Beaver-Duck (or perhaps a Platypus)! Her education laid the foundation for her administrative career working with nonprofit and government organizations, co-operatives, private/for-profit manufacturing and hospitality companies, as well as higher education.
As the first full-time Human Resources Manager for 2 Towns Ciderhouse, she had the unique opportunity to oversee development and implementation of the company's HR programs including hiring practices and procedures, employee satisfaction and engagement, the employee handbook, the safety program, training and employee development, compensation and job analysis, company culture, benefits administration, and employment law/compliance. In 2018, Lisa returned to OSU campus as a Classification and Compensation Consultant in the Office of Human Resources, where she continues doing what she loves: helping people.
Lisa moved to Monroe after living on her best friend's 17-acre farm in the Greenberry community. She chose Monroe as her home for its proximity to nature, small-town feel, friendly residents, quick access to Lochmead ice cream cones, and because she wanted to continue falling asleep to the yips of coyotes at night. Lisa lives with her partner, his two part-time daughters, and her sweet rescue mutt. Her interests include gardening, home improvement, wine tasting, camping, backpacking, hiking, biking, wild-crafting plants, pickling, fermentation, and more.
Monroe's culture is humble, serene, and hardworking. Lisa would like to help grow our community in a way that preserves these values but also provides our residents with improved recreational spaces and things to do downtown, as well as ways to stay active and healthy. Lisa is excited by the opportunity to help transition Monroe into its potential and would like to do so in a way that is sustainable and well planned. She believes that her professional and academic backgrounds in planning and policymaking, as well as her passion for community involvement, will be put to good use as a City Councilor.
Councilor: January 2021 to Present
Current term expires: December 31, 2024
City Council Representative for the Oregon Cascades West Council of Governments (OCWCOG)
Past Elected Positions: N/A
Current Committee Assignments:
– Member, Budget Committee
– Member, City Facilities & Parks Committee
– Member, Human Resources Committee
– Member, Ordinance & City Policy Ad-Hoc Committee
– Member, Beautification Subcommittee  
Past Committee Assignments: N/A
Current Employment: Oregon State University
---