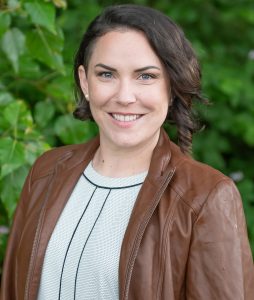 Councilor Katherine Larkin
katherine.larkin∂ci.monroe.or.usEmail Councilor Larkin
About Councilor Larkin
Katherine grew up here in the Willamette Valley and attended the University of Oregon where she earned a Bachelor of Science in Sociology with a focus in crime and delinquency and minors in Business Administration and Community Arts. Katherine also holds a Masters of Education from the University of Nevada, Las Vegas.
After college, Katherine left Oregon and quickly realized she missed home. After three years away, she took a job in rural eastern Oregon with the intention of moving back to the Willamette Valley. When she accepted a position at the University of Oregon, she and her family decided to settle in Monroe. At first glance, Monroe offered a convenient location between her workplace and her spouse's workplace. Soon, they realized Monroe had a lot more to offer. It is not just a stopover, it has become home for Katherine, her spouse, daughter, and numerous pets.
Over the past five years, Katherine has seen impressive growth and advancement within our tight knit and supportive community. She is excited about the opportunity to bring a fresh perspective to the table and continue the momentum of the City Council.
Councilor: January 2021 to Present
Current term expires: December 31, 2024
Past Elected Positions: N/A
Current Committee Assignments:
– Member, Budget Committee
– Member, Public Works Committee
– Member, Ordinance & City Policy Ad-Hoc Committee
– Member, Beautification Subcommittee  
Past Committee Assignments: N/A
Current Employment: University of Oregon
---