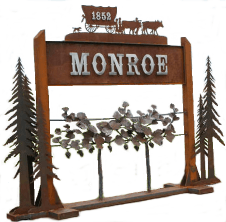 Monroe Oregon is located in South-East Benton County and nestled in the foothills of the Coast Range. Strategically positioned in the mid-Willamette Valley, the City of Monroe is between Corvallis and Oregon State University to the north and Eugene with the University of Oregon to the south. This unique location offers very diverse opportunities including hiking and mountain biking, fishing on the Alsea River, Division I sports at both Oregon State University and the University of Oregon,  or wine tasting at local wineries. Monroe's beautiful natural surroundings offers an attractive site for business and tourist development.
What's New
---
Now accepting entry forms! For more information please visit our Lights Contest page.
Entry forms are available here or at City Hall.
Contest Entry Deadline: Friday, December 11th @ 5 PM
Would you like to play a leading role in planning the future for the City of Monroe?
To learn more, please click here. 
Republic Waste Services has posted their Fall pickup and recycling schedule – Check it out here.