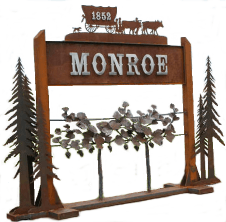 Monroe Oregon is located in South-East Benton County and nestled in the foothills of the Coast Range. Strategically positioned in the mid-Willamette Valley, the City of Monroe is between Corvallis and Oregon State University to the north and Eugene with the University of Oregon to the south. This unique location offers very diverse opportunities including hiking and mountain biking, fishing on the Alsea River, Division I sports at both Oregon State University and the University of Oregon,  or wine tasting at local wineries. Monroe's beautiful natural surroundings offers an attractive site for business and tourist development.
What's New
---
For information on Public Contracting Rules, please click here. 

For information on the Red Hills Subdivision, please click here.
The City of Monroe now lets you make utility payments online! We have partnered with Xpress Bill Pay, the premier provider for online payment systems, to make this happen. Visit our Online Utility Billing Page for more information and to learn how to get started.
Click the button below to begin making payments online today!