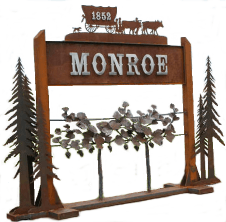 Monroe Oregon is located in South-East Benton County and nestled in the foothills of the Coast Range. Strategically positioned in the mid-Willamette Valley, the City of Monroe is between Corvallis and Oregon State University to the north and Eugene with the University of Oregon to the south. This unique location offers very diverse opportunities including hiking and mountain biking, fishing on the Alsea River, Division I sports at both Oregon State University and the University of Oregon,  or wine tasting at local wineries. Monroe's beautiful natural surroundings offers an attractive site for business and tourist development.
What's New
---
AFRA
NA (Alliance for Recreation and Natural Areas) will be hosting a weed pull at Bellfountain Park. Help us keep the English ivy from taking over! Come join us if you can on April 30th 10-noon at  Bellfountain County Park, 24849 Park Road, Monroe, OR. Bring your lunch to eat and visit after working so hard! Kids are welcome.
Please SIGN-UP for this event at http://events.afrana.org, or just show up at the Park anytime from 10am to noon.