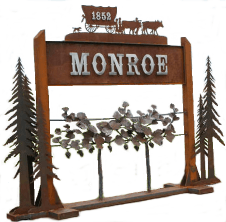 Monroe Oregon is located in South-East Benton County and nestled in the foothills of the Coast Range. Strategically positioned in the mid-Willamette Valley, the City of Monroe is between Corvallis and Oregon State University to the north and Eugene with the University of Oregon to the south. This unique location offers very diverse opportunities including hiking and mountain biking, fishing on the Alsea River, Division I sports at both Oregon State University and the University of Oregon,  or wine tasting at local wineries. Monroe's beautiful natural surroundings offers an attractive site for business and tourist development.
What's New
---
You are invited to two upcoming events at the Monroe Community Library in the Train Depot Room:
Adults Only Art Night
Wednesday, September 20 6:00PM
Adults! You asked for a night out, and we heard you. Join us for an Adults Only program at the library. Decorate a fun canvas bag, visit with friends and neighbors, or just sit and relax! There will be light snacks.
Family Night @ the Library
Wednesday, September 27 6:00PM
Families! We will be showing a Disneynature movie on the big screen and coloring bookmarks to take home. There will be light snacks. Come for the evening and enjoy quality time together!
Do you have questions or concerns about Oregon's Health Care system?
Now is the time to share your thoughts and ideas, and learn what's happening to help improve the system in Oregon.
Mid-Valley Health Care Advocates & Physicians for National Health Program Corvallis are hosting a local panel discussion, held in a casual and welcoming setting, where you can contribute your thoughts and learn more about improving what's happening state-wide.
The event features a panel of local health and business professionals:
* Bruce Thomson MD, retired local Family Practice Doctor
* Ron Loe, business owner, Wood Castle
* Karen Stephenson, retired Pharmacist and Medicaid Client
Mike Huntington, retired physician, will moderate, and capture your thoughts and ideas to help improve health care in Oregon.
WHEN: October 2, 2017, 7:00pm
WHERE: Alpine Community Center
25184 Webster Avenue in Alpine

The City of Monroe wants to remind its citizens that keeping grass and weeds in check on their property or the right-of-way adjacent to their property not only keeps the City a pleasant and safe place to live, but is also the law. Read more about Ordinance 16-01 for details.