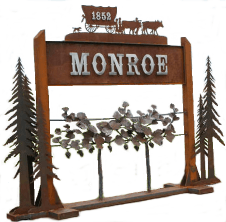 Monroe Oregon is located in South-East Benton County and nestled in the foothills of the Coast Range. Strategically positioned in the mid-Willamette Valley, the City of Monroe is between Corvallis and Oregon State University to the north and Eugene with the University of Oregon to the south. This unique location offers very diverse opportunities including hiking and mountain biking, fishing on the Alsea River, Division I sports at both Oregon State University and the University of Oregon,  or wine tasting at local wineries. Monroe's beautiful natural surroundings offers an attractive site for business and tourist development.
What's New
---
Pacific Power urges customers to verify any phone calls about their account by calling 1-888-221-7070
Pacific Power is warning its customers and the public of a phone scam targeting customers in the mid-Willamette areas where criminals posing as utility customer service agents are trying to get money and steal personal information.
The fraud calls are pestering people nationwide, and have been a concern for years, but recent days have seen an upsurge – Read more here