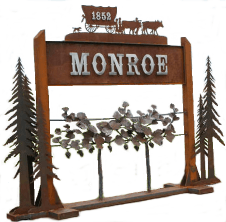 Monroe Oregon is located in South-East Benton County and nestled in the foothills of the Coast Range. Strategically positioned in the mid-Willamette Valley, the City of Monroe is between Corvallis and Oregon State University to the north and Eugene with the University of Oregon to the south. This unique location offers very diverse opportunities including hiking and mountain biking, fishing on the Alsea River, Division I sports at both Oregon State University and the University of Oregon,  or wine tasting at local wineries. Monroe's beautiful natural surroundings offers an attractive site for business and tourist development.
What's New
---
Meeting Topics:
Overview of feedback we heard from community.

Present possible alternatives for Monroe dam site.

Opportunity for attendees to learn more about each alternative, ask questions and provide comment.

All are welcome and encouraged to attend!
Thursday, November 30
6:00 – 8:00 p.m.
Monroe Community Library
380 N. 5th St (across from Monroe High School)
The 2040 Thriving Communities Initiative is a community-driven, visioning process that identifies Core Values in order to address long-term, complex issues. The Benton County 2040 Thriving Communities Council is reaching out to all our communities to obtain feedback on their newly-identified Core Values. To learn more and participate in the process visit our Benton County 2040 Thriving Communities Initiative Page! 
Republic Waste Services has posted their Fall pickup and recycling schedule – Check it out here.